AI-POWERED Social Listening
Uncover business-critical insights waiting on social media with AI-augmented social listening.
GET IN FRONT OF THE STORY THAT WILL BE THE STORY
With over 4.5 billion active users on social media, it's essential that you're tuned into the global conversation. Agility's powerful social listening returns better, more relevant search results, allowing you to easily monitor critical keywords, topics, handles, and hashtags to identify trends, market opportunities, and potential influencers across all major social media platforms.
Monitor your brand, competitors, and industry with unlimited social searches
Group related searches into themes for easier management of topics
Add filters to existing searches to delve into specific posts to identify key influencers and hashtags
Stay proactive by spotting the posts most likely to impact your brand and influence your audience
GAIN CRITICAL INSIGHTS
Agility's social listening delivers in-depth analysis, including sentiment, engagement, and trends, so you can stay on top of the posts and conversations that have the potential to influence your brand, whether positive or negative.
Follow the evolution of conversations around your brand, your competitors, and your industry as they play out on social
Compare engagement and sentiment across social networks and topics
Gain a deeper understanding of the impact of these conversations with out-of-the-box dashboards and reporting
REPORT ON FINDINGS
Whether you want a high-level overview of each network's performance or want to narrow your focus to the top performing hashtags with positive sentiment, Agility's social listening lets you set the resolution of your analysis and reporting.
View the most popular hashtags and handles that your searches uncover
See high-value metrics like total impressions, share of voice, and sentiment
Conduct benchmark and comparative analysis for competitors, topics, and networks to gain a comprehensive understanding of trends within your data
Export unlimited reports to share valuable insights with key stakeholders in emails, presentations, or other communication materials
The customer support is excellent, the team at Agility walk you through the service without rushing, ensuring you understand how the system works and how to get the most out of the service.
Alex Verrey, Embracer Freemode
Despite working in different time zones, the customer service team always replies within minutes to all the inquiries I have. They solve all problems very quickly and it's a pleasure to work with them.
Kasia Gilewska, MFS Investment Management
Agility's differentiator is its customer service team. Once paired with a member of the Agility team, they make themselves available to support all aspects of your PR projects quickly and efficiently.
Ashley Sams, PR 20/20
RECEIVE A 1:1 DEMO WITH ONE OF OUR PR SOLUTIONS EXPERTS
We'll take you through the platform and show you firsthand how Agility's social listening platform helps identify the conversations that matter to your brand.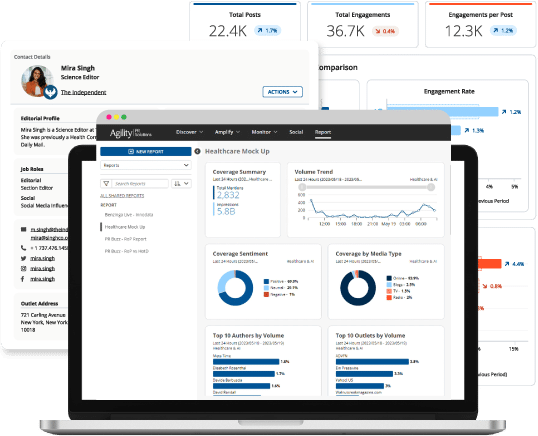 frequently asked questions
IF I HAVE MEDIA MONITORING, DO I ALSO NEED SOCIAL LISTENING?
Social listening allows you to dive deeper into the engagement and sentiment data around conversations and individual posts. While media monitoring tools incorporate social media (like ours), workflows and reporting still tend to be built around traditional media channels like print, online news, and broadcast. To see and understand the full conversation taking place on social media, you need social listening.
WHAT KIND OF SUPPORT DO YOU PROVIDE FOR USERS?
We offer chat, email, and phone support so users can easily get in touch whenever they have questions. We also ensure every client is set up for success by offering free training sessions for any new or existing users.
WHAT IS THE COST OF SOCIAL LISTENING?
WHAT SOCIAL NETWORKS DO YOU MONITOR?
We offer monitoring for major social media platforms including Twitter, Facebook, Instagram, Reddit, and YouTube.
See Agility social listening in action with a customized tour! We'll take you on a 30-minute trip through the platform and show you how to best take advantage of our features to find the conversations that matter and turn them into critical insights.