AI-POWERED MEDIA DATABASE
& OUTREACH SOLUTION
Streamline your media relations activities with Agility's all-in-one distribution platform and generative AI writing assistant.
DISCOVER THE RIGHT MEDIA CONTACTS FOR YOUR STORY
Find journalists and influencers to amplify your message from our global database of 1.1 million unique media contacts and outlets.
Search by keyword and use Boolean logic to identify who is talking about the topics that matter to you
Refine searches with advanced filtering options like media type, location, language, job role, and more to pinpoint the most relevant contacts
View detailed journalist profiles and trusted direct contact information including phone number, email address, and social media
Save your searches to easily review and update your list as needed without having to start all over again
Agility's media database has 99.6% data accuracy thanks to our dedicated, global in-house research team.
PR COPILOT WILL TAKE YOU FROM FIRST DRAFT TO FINAL DRAFT IN MINUTES
Create engaging press releases and media outreach in a fraction of the time with PR CoPilot™, the first generative AI writing assistant to be built natively into a fully integrated PR platform.
Input your key messages and optional quotes and PR CoPilot will generate an accurate and high-quality first draft in seconds
Get subject line, preview text, and headline recommendations based on your copy
Optimize your content with refinement options including length, tone, and spelling and grammar corrections
Use PR CoPilot to translate your copy into a variety of languages including French, German, and Spanish
CONNECT WITH CONTACTS IN A FEW CLICKS
Curate unlimited lists of relevant media contacts and send personalized email pitches directly from the platform.
Take advantage of powerful refinement and filter options to build your targeted media list
Boost engagement with your emails by adding compelling multimedia and personalized fields, like first name and outlet
Ensure your email is formatted for all screen sizes—mobile, desktop, and tablet—with device preview
Get insight into how your outreach performed with detailed engagement metrics, including open, click, and delivery rates
See who interacted with your email and easily follow up with select journalists by adding them to a new list or sending them an email
Agility PR has helped our business to reach industry professionals and journalists in a quick and easy way. The user interface is really well designed and offers the perfect option for a company looking to handle their own PR.
Cassie Jones, Sigma 3 Kitchens Ltd.
Agility has saved me time and money in finding and collating the contacts for wellbeing and wellness PR. The system is easy to use and the search functions allow you to niche down as much as you need to/would like.
Molly Gould, business owner
By far the simplest and most intuitive platform our agency has used so far. We love the way it's designed and set up, and that it is so easy to follow.
Paula Conway, Astonish!
Agility PR Solutions gives us rapid access to information on who is covering what topics. We've realized greater productivity with our media relations and can get in front of a broader media audience.
Liz Goar, NPC Creative Services
Agility PR has completely changed the way my organization does our work. With Agility's user-friendly system, consistent and helpful chat feature, and ways to create meaningful contacts with journalists etc.
Nina Cortez, Nightingale Education Group
RECEIVE A 1:1 DEMO WITH ONE OF OUR PR SOLUTIONS EXPERTS
We'll take you through the platform and show you firsthand how simple it can be to reach the right journalists and amplify your story.
Influencer streams provides one centralized location to find, view, and follow up on real-time coverage from journalists. Build your streams by keyword, hashtag, or a previously saved contact list to keep track of what journalists are producing and sharing on social media and online news*.
See what's being produced on the topics that matter to you in real-time
Uncover potential new contacts and add them to a media list directly from the influencer streams
Track industry-specific journalist requests on social media to find earned media opportunities
Engage with relevant journalists right from the influencer streams to nurture meaningful relationships
*Users with Agility Monitoring will be able to view coverage from subscription sources
Send press releases directly to the wire from Agility to save time and extend the reach of your message.
Say everything you need to say with unlimited words for one flat-fee
Add multimedia to maximize open rates and visibility
Use PR CoPilot to refine your press release with headline recommendations and copy recommendations, including tone, length, and spelling and grammar
Monitor interaction with your release with in-depth reporting metrics
Boost online visibility and SEO by posting your release in the Agility newsroom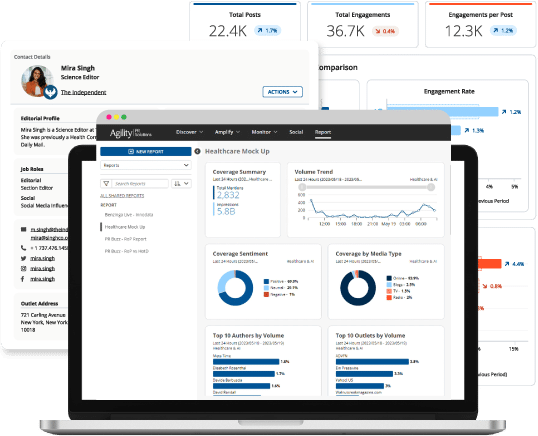 frequently asked questions
HOW MANY MEDIA CONTACTS ARE IN YOUR DATABASE?
Great question! We have over 1.1 million journalists, influencers, and outlets in our database–and we don't double count contacts or include editorial opportunities to inflate our numbers.
AM I RESTRICTED TO SEARCHING BY BEATS WHEN LOOKING UP CONTACTS?
Nope! Agility's powerful keyword search tools ensure you're finding the media contacts who are talking about the topics important to your brand. And you can filter results by region, beat, or other qualifiers to find your best match. Plus, you still have the option to look up contacts by location, media type, and more.
WHAT KIND OF SUPPORT DO YOU PROVIDE FOR USERS?
Our top-rated support team is available via chat, email, and phone support 24/5 so users can easily get in touch whenever they have questions. We also ensure every client is set up for success by offering free training sessions for any new or existing users. Our clients rate us higher than other industry players in quality of support, ease of doing business, and ease of setup.
WHAT IS THE COST OF YOUR MEDIA DATABASE?
HOW ARE YOU DIFFERENT FROM OTHER MEDIA DATABASE PROVIDERS?
We stand out from other media database providers in three ways:
1) Our data accuracy—we have over 1.1 million unique contacts and outlets with the right profile and contact information 99.6% of the time.
2) Our global in-house research team provides over 2 million manual updates to the database to ensure there's a direct email address 96% of the time. And on rare occasions, when that information isn't available or you can't find a niche journalist or outlet, you can count on us to find and update the profile! Clients can request customized research projects free of charge.
3) Our customer support—we're dedicated to making sure we're with you every step of the way to guarantee your success with our tools. Hear more about why users love us on G2.
ARE THERE COST SAVINGS WHEN I PURCHASE MULTIPLE NEWS RELEASES?
Absolutely! Our newswire bundles offer the best value, so you'll save more as you send more.
See the Agility media database in action with a customized tour! We'll take you on a 30-minute trip through the platform and show you how to best take advantage of our features.