Go beyond text-only media monitoring with AI-powered image search capabilities
NEW YORK –  February 6, 2018 – Agility PR Solutions, a subsidiary of INNODATA INC. (NASDAQ: INOD), is leading a visual revolution in communications with the addition of artificial intelligence (AI) powered image search capabilities to AgilityTM media monitoring.
The way people read and absorb news is changing. With shorter attention spans and more people consuming news content on mobile devices, images have become the critical tool for communicators to grab attention, convey emotion and encourage sharing of content.
That's why Agility PR Solutions is proud to announce that AI-powered image monitoring is now available in our CAPTURE package, which also includes a global media database and self-service monitoring tools.
We're providing this unique capability to help our clients go beyond text-only monitoring and get the full picture of coverage.
Get the full picture of coverage
Not all earned media is equal. According to a Hubspot article, visuals are processed 60,000 times faster than text, and visual content is 40 times more likely to be shared. Images dictate the impact of an article in a way that words alone cannot.
We help PR and communications professionals focus on the news coverage that counts with a powerful monitoring engine that can surface mentions of a brand or topic. And now we include images, along with the text headline and snippet, providing context that helps communicators:
See how compelling, shareable or on-brand earned media is.
Quickly determine the sentiment and potential impact of coverage.
Deeper brand & reputation monitoring
Agility's image monitoring uses machine learning to identify objects or logos in an image, even if there is no mention in the article. This helps organizations and communicators:
Keep an eye on brand references or logo usage.
Unearth hidden stories that wouldn't be found with text-only media monitoring.
The first release of Agility's image monitoring focuses on high-value coverage within online news. We're providing this first-of-its-kind functionality to all Agility media monitoring clients at no additional cost and we will continue to expand image sources and functionality in future releases.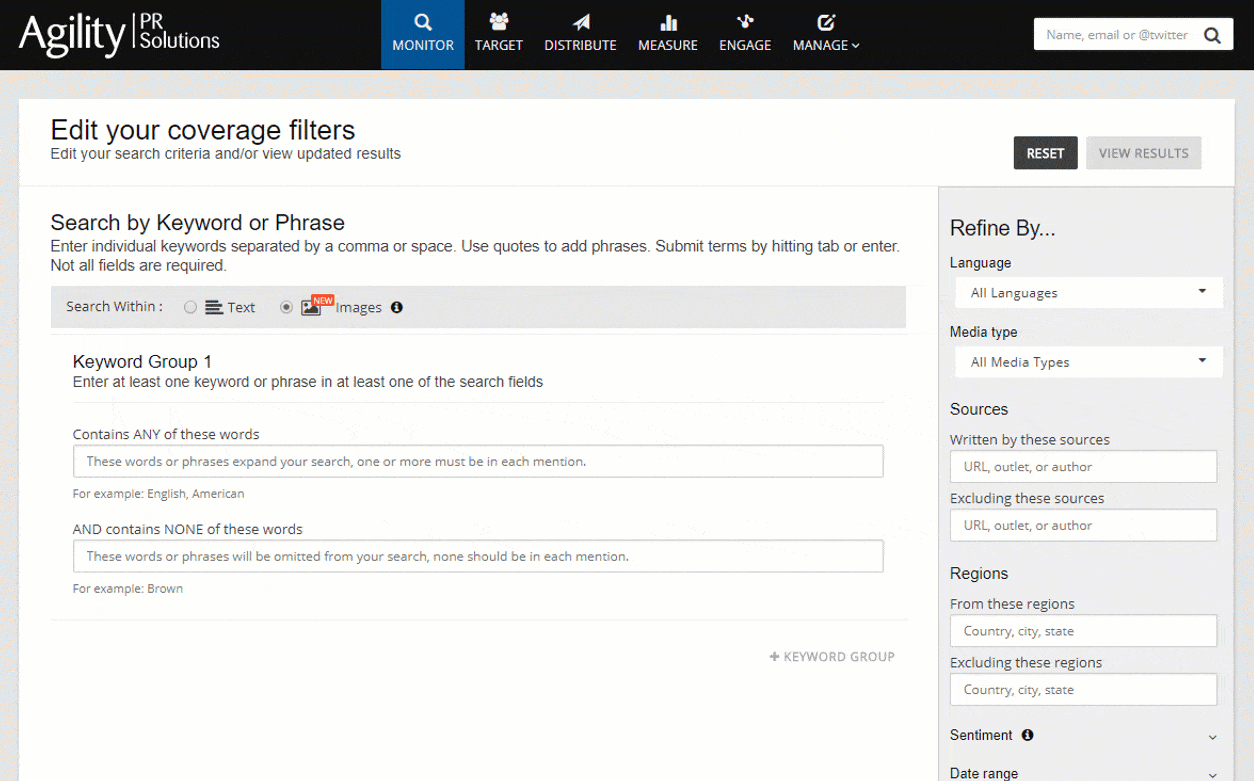 Agility PR Solutions
Agility PR Solutions, a subsidiary of INNODATA INC. (NASDAQ: INOD), provides powerful yet easy-to-use media database, monitoring, and analytics solutions for tomorrow's communicators. Since 2003, clients have trusted our tools and services to help them identify and connect with influencers, capture coverage, and measure impact of everything they do. Whether we do it for you or help you do it yourself, our patented monitoring technology and team of media analysts make it easy to monitor and measure print, broadcast, social media, and online coverage. Learn more at www.agilitypr.com
Media contact:
Dawn Smeaton
Director of Marketing
Agility PR Solutions
1 866-545-3745 x1121