On June 13, 2017, Bulldog Reporter presented a webinar by Dr. Jonah Berger titled Contagious: Why Things Catch On. Here is a recap of what the marketing professor and bestselling author had to teach us. 
---
How did Beyoncé successfully release Lemonade with zero advertising? Why did Geico's 2013 Hump Day ad enjoy extraordinary success? Why has Blendtec's video of blending an iPhone earned 12 million+ views?
The answer to all of these questions is, astoundingly, the same: they were made for word-of-mouth conversation.
Dr. Jonah Berger, author of The New York Times and The Wall Street Journal bestseller Contagious: Why Things Catch On, shared these examples when he guest presented our recent webinar. In the webinar of the same name, Dr. Berger went beyond anecdotes and delved into the science of social transmission and crafting contagious content.
One of the first things Dr. Berger shared in the webinar to highlight the potency of word-of-mouth was the following statement from McKinsey & Company: "Word of mouth generates more than twice the sales of traditional advertising."
For those wondering why word of mouth has the edge over traditional media, Jonah Berger highlights the two main reasons:
1. Trust
People trust their friends and peers more than advertisements. We're more likely to  listen to, and believe, a trusted source in our personal network over a paid advertisement. And we're much less likely to feel like someone is trying to sway us into buying a product when it comes from within our network — rather than from the company that stands to profit from our decision.
This level of trust makes us more likely to proceed with making a purchase, adopting a new idea, or carrying out any other intended action from the message.
2. Powerful targeting
When it comes to digital advertising channels, there is a certain level of targeting available. For example, we can target by someone's geographical location, their job title, their gender, etc.
However, these targeting capabilities are no match for our personal network: our friends and family know if we hate spicy food, are looking for a new car, have to buy new clothes for our children, etc. This level of knowledge allows them to make personalized recommendations tailored to our unique preferences.
The above benefits of spurring word-of-mouth conversation demonstrate the impact that social transmission has over traditional advertising. But when it comes crafting campaigns specifically designed to increase word of mouth, it can be tricky knowing where to start. Learning about other viral success stories can make it seem more like luck of the draw rather than a planned strategic effort.
But, as Jonah Berger states in the webinar, social transmission goes beyond luck and chance — there's a science to it.
Contagious: Why Things Catch On is based on rigorous academic research that analyzes what factors contribute to social virality, and Dr. Berger has boiled it down to the following six factors, which he refers to as his STEPPS: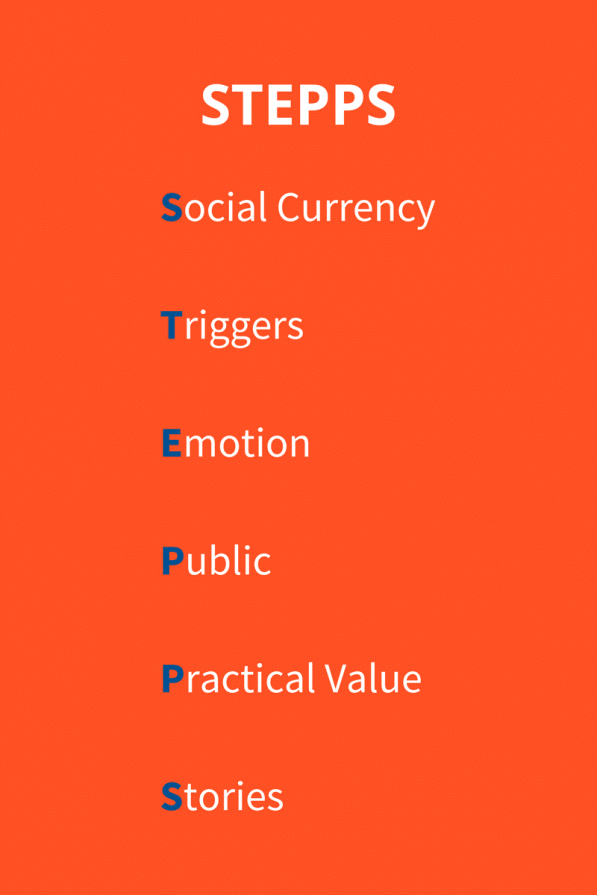 To learn more about each of the STEPPS and how they contribute to virality, check out our on-demand webinar, Contagious: Why Things Catch On. And for even more insight into Jonah Berger's take on creating contagious campaigns, opt in to emails from Agility PR Solutions and we'll send you a paperback copy of the bestselling book.